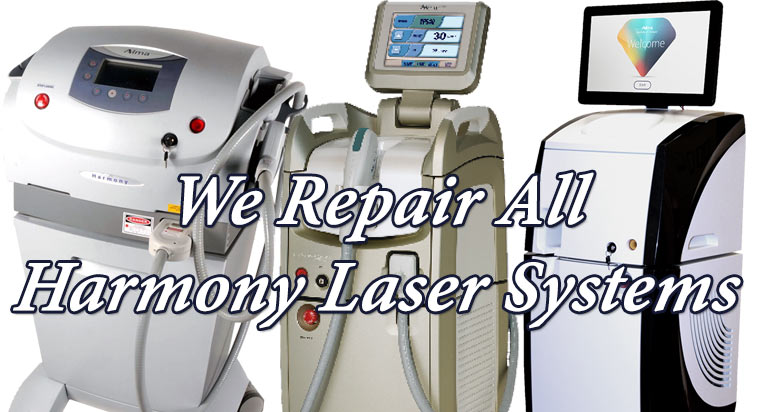 Affordable Harmony Laser Repairs
Repairing cosmetic laser equipment can be very expensive; especially when you are out of warranty and dealing with pricey manufacturer repair costs. We offer free troubleshooting and all of the estimates we provide are free of charge. We use OEM parts and keep our inventory stocked. Contact a laser tech today to get help with your cosmetic laser repair needs. Below is a list of the Harmony laser models we service and support:
Harmony Orion
Harmony Elite
Harmony XL
Harmony XL Pro
If you are having problem with your Harmony laser simply complete the contact form on this page and a laser technician will contact you immediately to review and troubleshoot your issues. We can provide an initial diagnosis and repair estimate - both of which are free of charge. Following are common repairs performed on Harmony cosmetic laser systems:
Replace Damaged Touch Screens
CPU Repairs
High Voltage Power Supply Repairs and/or Replacements
Replace Radiator / Heat Exchange
Replace the water pump
Replace the water tank
Replace the flow switch
Replace damaged wiring
Circuit Board Repairs
Need help with
Alma handpiece repairs
for the Harmony laser system? We off quick turns and OEM parts.
Speak With A Technician
Complete the form below and an Alma Repair specialist will contact you to provide free troubleshooting for your Sorprano laser system. All estimates are free of charge. We look forward to hearing from you.